C O M P A N Y I N F O

© Copyright - IDOM Consulting LLC - All Rights Reserved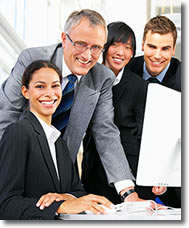 About IDOM
IDOM is a leading provider of management consulting and custom banking automation services to the domestic and international banking industry whose solutions have been proven through many years of banking experience dating back to 1970's. The company's staff is comprised of career bankers and systems specialists whose knowledge lies in banking and banking technology, with specific expertise in financial operations, management, accounting and reporting.
IDOM provides a range of management consulting and technology services for banks worldwide and is committed to being a long-term information technology partner to its clients, which include a wide
range of worldwide institutions including international and domestic banks, US-based securities firms and insurance companies. Services range from business planning to post implementation and include management consulting and training in the use of its own and other vendors' software products. 
IDOM specializes in integrating legacy-banking systems with applications of the latest technologies.  It performs seamless migrations from flat file to relational databases and legacy platforms to open system and client-server technologies. Additional services include software implementation; and systems analysis, selection, support and maintenance.
IDOM's data warehousing solutions allow users to utilize front-end reporting tools as well as powerful OLAP cube data structures which allow for more complex analysis. The company's consultants take information from many front and back office systems throughout the bank turning this into useful information by creating customized views of the data and reports for analysis purposes.
IDOM has the experience to assess the current state of your business from an operational and technological standpoint; identify the gap between where you are today and where you need to be, and then partner in developing the road map to close the gap.